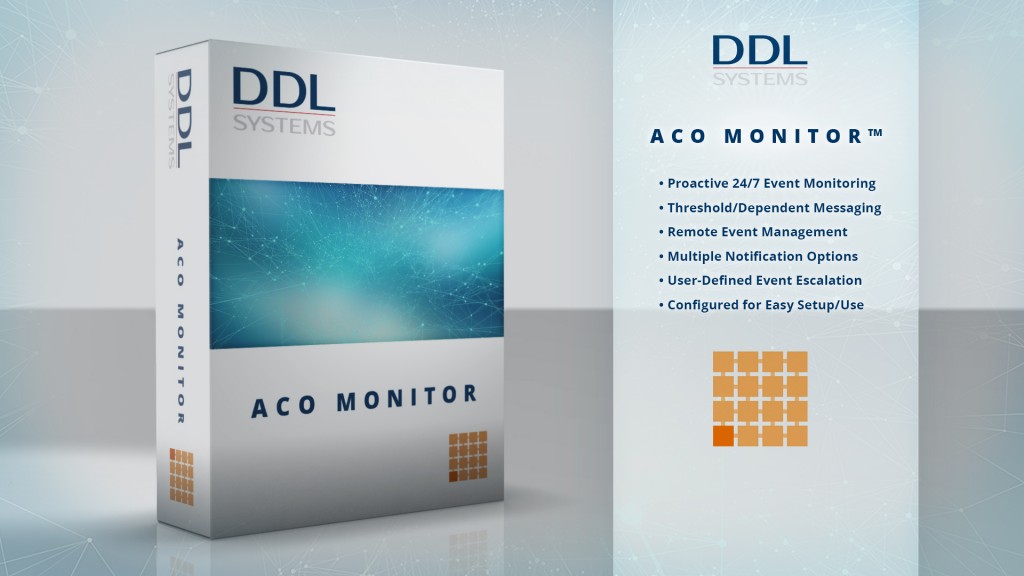 Start your FREE 30-day trial now!
ACO MONITOR™ is EASY to install and is pre-configured to monitor your system out-of-the-box. In fact, most installations are up and running (utilizing the basic system/application monitoring facilities) within twenty (20) minutes.
We're so confident that you'll love ACO MONITOR™ that we offer you a fully functional ABSOLUTELY FREE software trial for 30 days. And best of all, professional installation, custom configuration, and technical support are included.
1. Create an account
Register with our customer portal via the link below. Then, continue with the next step.

2. Download the "full-cut" product release
Check your inbox for an email from DDL Systems. Open the email and follow the instructions to download the ACO MONITOR™ software. Then, continue with the next step.
3. Install the software on your system
Install the ACO MONITOR™ software on your system and start the ACO monitoring agents. Follow the installation instructions by clicking on the link below.

---
What our customers are saying
"We've been using ACO MONITOR™ since its inception. ACO MONITOR™ dramatically reduces the amount of attention needed to manage our systems and provides peace of mind that I will find out about important issues when I need to."
Joe, Hatco Corporation
"Simply put, ACO MONITOR™ has helped us improve our response time. Like most companies, resources are limited and we don't have dedicated operators. Since implementing ACO MONITOR™, we're able to leverage our IT staff and resolve issues very quickly – ACO MONITOR is very cost effective for us!"
Laura, ECHO Incorporated
"The software was easy to install, pre-configured, and your support is the best. With your assistance, we had the whole thing working on our system in less than 20 minutes…AMAZING!"
Terry, CBS, Inc.
"ACO MONITOR™ paid for itself almost immediately. Shortly after installing the product, we were notified of a critical disk failure and we were able to react without the system going down. This is a great product!"
Steve, Laurel Machine & Foundry
"Our data center runs much more efficiently now that ACO MONITOR™ is managing our systems. Application up-time has greatly improved and our support personnel are way less stressed."
Robert, Sanderson Farms
"The automation script your technical support team wrote for us is exactly what we need. You've definitely helped us out tremendously and that is something I haven't had the luxury to say about many technical support groups these days. So you definitely have a happy customer here."
Tony, Marley/Weil-McLain
---
Need more information?
Our sales professionals are ready to answer your questions, perform a live demo, or provide a quote.